SaulPaul's Be The Change Festival Goes Across the Country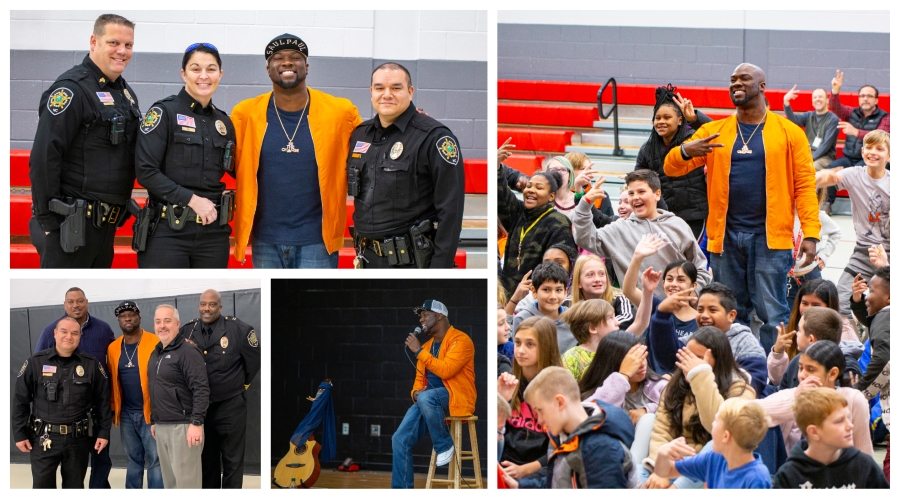 Award-winning musician SaulPaul made a stop at Joe P. Eblen Intermediate School to inspire students to be a force of positive change in their school and their community. SaulPaul toured Asheville as part of a multi-day visit leading up to SaulPaul's Be The Change Festival for the city of Asheville. The Texas native visited with students at Eblen and Asheville Middle School. In addition to performing and sharing his message of hope and inspiratio, he was part of several professional workshops exploring restorative justice, cultural understanding, and equity.
"Our 6th graders were engaged and entertained today by SaulPaul," said Jeremy Stowe Principal at Eblen Intermediate. "SaulPaul's positive message about motivation, persistence, and hope is an important one for kids this age to experience. We want our students to grow up to be good citizens. We want them to figure out who they are and where they fit in the community. This positive message certainly supports that goal."
SaulPaul has overcome tremendous odds- rising above poverty and incarceration-to graduate college with honors and go on to become a motivational speaker and success coach.
The Be The Change Festival was open to the public and the family-friendly festival featured interactive hands-on learning exhibits, live musical performances, games, delicious food, DJs, and lots of prizes and giveways for the community.
The visit was made possible thanks to a partnership with several community partners including, Buncombe County Sheriff's Office, Western Carolina Rescue Ministries, United Way of Asheville and Buncombe County, Asheville City Schools, and the Justice Resource Advisory Council.
This post is originally featured at: https://www.buncombeschools.org/departments/communications/news_feeds_and_stories/social_snapshots/inspired_to_be_the_change