SaulPaul At The Pecan Street Festival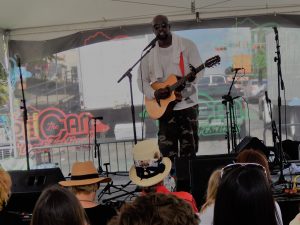 The 37th annual Pecan Street Festival was back at it again! And SaulPaul performed in full effect at the Trinity Stage. Featuring songs from his new album, We Dream in 3D, SaulPaul captivated the audience with his music and interactive crowd experience. SaulPaul featured, Alexia, who performed songs like Rise and Encourage me with SaulPaul.
During the show SaulPaul got fans and families to participate in songs like Shine Right Now, Texas Two Step, and Do That Hula Hoop. To end such a successful show SaulPaul got to meet some of his fans and make more as people were drawn in by the present crowd's energy and enthusiasm.
About the Festival
The Pecan Street Festival is a free two-day arts festival held twice yearly in downtown Austin's Sixth Street Historic District. The juried festival attracts hundreds of local and national artisans offering original handcrafted creations in a variety of mediums. Like Austin itself, Pecan Street Festival attendees are diverse. Some come to buy art, others come for the food or the music, but they all come to take part in a tradition that is 100% Austin.
About The Album
We Dream in 3D is a collection of SaulPaul's most popular songs that have been remixed and re-recorded featuring some of the 100,000+ young people he has entertained, inspired and empowered over the years! The album is available at iTunes and BandCamp.