Berkman Arts Integration Academy Welcomes SaulPaul!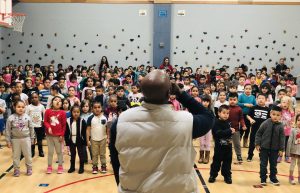 SaulPaul visited Berkman Elementary School on his Be the Change Tour this week! He spread his powerful message to over 500 students and performed songs like, Hands in the Sky, Me, Gumby and My 6 string and of course taught the Berkman Allstars how to Texas Two Step. The students and staff were on their feet, putting their hands in the sky, and when it came time to Do That Hula Hoop the crowd went wild. From making beats and freestyling, to listening to SaulPaul's story on the importance of our choices, these Allstars were pumped up throughout SaulPaul's whole performance.
SaulPaul will be on site as a mentor at SXSW EDU and also have a book signing for his book! You don't want to miss this! To find out more details about this event, click here.